THE MEDICAL AFFFAIRS COMPLIANCE SUMMIT HAS BEEN CANCELLED AND ITS CONTENTS RESCHEDULED FOR THE
PFC PHARMA CONGRESS
KEYNOTE SPEAKERS
Jim Clement, MHA
Executive Director, Cost of Care & Supply Chain Strategy, Aetna; Former National Account Manager, PBMs & Specialty Pharmacy, Genentech, Inc., Former Director, Pharmaceutical Contracting, Express Scripts, Inc., Hartford, CT
Susan Dentzer
President and Chief Executive Officer, The Network for Excellence in Health Innovation (NEHI), Analyst on Health Policy, The News Hour, Washington, DC
Michelle Drozd, ScM
Deputy Vice President, Policy and Research, Pharmaceutical Research & Manufacturers of America (PhRMA), Washington, DC
David Hartenbaum, MD, MBA
Executive Director, Account Management, Merck, Philadelphia, PA
Gregg Shapiro, Esq.
Assistant US Attorney, US Attorney's Office, District of Massachusetts, Boston, MA
Julie Ritchie Wagner
Assistant General Counsel, PhRMA, Former Senior Counsel, Office of Counsel to the Inspector General, US Department of Health and Human Services, Washington, DC
CO CHAIRS
Mark Lange, JD
Assistant General Counsel, Eli Lilly and Company, Indianapolis, IN
Cynthia (Bongiovanni) Ramirez, R.Ph., M.S.J.
Director, Pharma/Device Events, Global Health Care, LLC., Bellevue, WA, Former Director, USP Compliance & Ethics, Bristol Myers-Squibb, Plainsboro, NJ
FEATURING SESSIONS ON:


Overview of the Current State of Medical Affairs Functions

The Interfaces Between Medical Affairs and Commercial at the Strategic Level

The Evolving Role of Medical Affairs in the Field

Considerations for Digital Initiatives Applicable to Medical Affairs

Managing Independent Investigator Study and Research Grant Requests

International Medical Affairs

Medical Affairs Personnel as Speakers: Scientific Exchange or Promotion?

Performance Measures for Medical Affairs

Best Practices in Medical Affairs Monitoring, Auditing, and Investigations

Medical Affairs and Payors: Health Economics Outcomes Research and Real World Evidence

View from the Marketplace: Rewarding Results: Moving Forward for Value-Based Contracting for Biopharmaceuticals

A Prosecutor's Perspective

PhRMA's Perspective on Public Policy Considerations for Expanding Value-Based Contracting

Recent FDA Draft Guidances on Manufacturer Communications and the Memorandum on Off-Label Communications

Pre-Approval Information Exchange with Payors
FEATURED FACULTY
Brian Bohnenkamp, JD, MHA
Partner, King & Spalding, Washington, DC
Kellie B. Combs, JD
Partner, Ropes & Gray, Washington, DC
Brian Conner
Director, Huron Consulting Group, Former Assistant Compliance Officer, Global Compliance, Shire Pharmaceuticals, Former GM, VP Regulatory and Quality Operations, Synageva BioPharma Corp., Former Compliance Officer of the Americas, Stiefel Laboratories, Former Director Regulatory Affairs, Advertising and Promotional Labeling, Genzyme, Atlanta, GA
Mark DeWyngaert, MBA, PhD
Managing Director, Huron Life Sciences, New York, NY
Kevin L. Espinoza, MBA
Global Vice President, Ethics & Compliance, BTG International, Former R&D Compliance Officer, Forest Laboratories (now Allergan), Durham, NC
James Gibney
Senior Director of Compliance, Regeneron Pharmaceuticals, Former Director, Worldwide Programs and US Investigations – Corporate Compliance, Pfizer, Tarrytown, NY
Michael Joachim, JD
Global Business Partner, Ethics and Business Integrity, Sanofi Genzyme, Cambridge, MA
Looking for online pharmacy? Look for our partners
here
with cheapest prices and fast delivery!
Joanne Lahner, JD
Vice President, GHH Compliance, Merck, North Wales, PA
Pamela Lonzer, MJ
US Medical Advisor, Shire, Former Associate Director, Global Medical Affairs Compliance, Baxalta, Former Assistant Director, Research and Development-Global Compliance, Astellas Pharma, Chicago, IL
John Moose, Director, CPA / ABV, MBA
Director, Huron Consulting Group, Chicago, IL
Kathryn Pryze
US Medical and Scientific Compliance Director, AstraZeneca, Wilmington, DE
Kevin Ryan, JD, MS
Senior Director, Risk and Accountability, Novo Nordisk, Princeton, NJ
Soumi Saha, JD, PharmD
Assistant Director of Pharmacy and Regulatory Affairs, Academy of Managed Care Pharmacy (AMCP), Former Director of National Pharmacy Controls, Kaiser Permanente, Alexandria, VA
Donna White, CCEP
Vice President, Contracts & Compliance, Chiesi USA, Inc., Cary, NC
PARTICIPATION OPTIONS
Traditional Onsite
Attendance

Simply register, travel to the conference city and attend in person.
Pros: subject matter immersion; professional networking opportunities; faculty interaction
Live and Archived
Webcast Participation

Watch the conference in live streaming video over the Internet and at your convenience at any time 24/7 for the six months following the event. The archived conference includes speaker videos and coordinated PowerPoint presentations.
Pros: Live digital feed and 24/7 Internet access for next six months; Accessible in office, at home or anywhere worldwide with Internet access; Avoid travel expense and hassle; No time away from the office
2017-2018 GLOBAL PHARMA COMPLIANCE CONGRESSES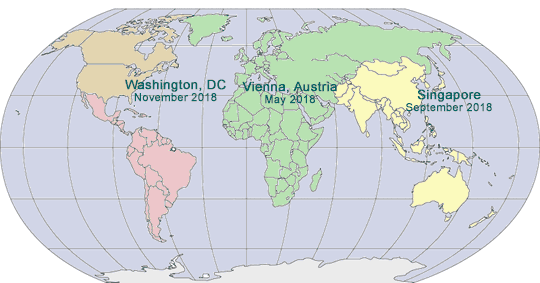 EIGHTEENTH ANNUAL PHARMACEUTICAL AND MEDICAL DEVICE COMPLIANCE CONGRESS
A Hybrid Conference and Internet Event
Sponsored by Pharmaceutical Compliance Forum (PCF)
November 6 – 8, 2017
Mandarin Oriental
Washington, DC
www.PharmaCongress.com
TWELFTH INTERNATIONAL PHARMACEUTICAL AND MEDICAL DEVICE COMPLIANCE CONGRESS
Sponsored by International Society of Healthcare Compliance Professionals (ETHICS)
Cosponsored by Pharmaceutical Compliance Forum (PCF)
Media Partners: Life Sciences Compliance Update
May 14 – 16, 2018
Hotel Savoyen
Vienna, Austria
www.InternationalPharmaCongress.com
EIGHTH ASIA PACIFIC PHARMACEUTICAL AND MEDICAL DEVICE COMPLIANCE CONGRESS
Sponsored by Asia Pacific Healthcare Industry Compliance Team
Cosponsored by International Society of Healthcare Ethics and Compliance Professionals (ETHICS) and Pharmaceutical Compliance Forum (PCF)
Media Partners: Life Sciences Compliance Update
September 2018
Singapore
www.AsianPharmaCongress.com



INDIAN PHARMACEUTICAL AND MEDICAL DEVICE COMPLIANCE CONGRESS
International Society of Health-
care Compliance Professionals (ETHICS)
Cosponsored by International Society of Healthcare Compliance Professionals (ETHICS) and Pharmaceutical Compliance Forum (PCF)
Fall 2018
Mumbai, India
Coming Soon